Whilst falling asleep to the cacophony of jungle sounds around me had been complete bliss, waking up several times in the night as a result of a deafening rain storm hadn't.  I was still at the point where I was drifting in and out of sleep when our 5am alarm sounded.  The plan had been to take a sunrise bird-spotting boat trip (as this was the best time of day to catch them), but it had been made clear to us the night before that if it was raining the trip would be cancelled.  If I was a bird, I certainly wouldn't have come out of my roost in that weather, so I'm guessing that was Victor's thinking too.  So, hearing the rain storm still raging outside our window, we re-set the alarm for the more sensible time of 8:30am, and went back to sleep.
When we awoke, the rain had eased off a little, but it was still very wet outside so this next trip called for wellies, and – despite the humidity – trousers and a long sleeved shirt.  Yes, we were off on a jungle walk through the surrounding Yanamono Reserve.
Before we'd even left the lodge, we'd already seen a few frogs resting on the wet leaves, heard some monkeys in the trees, and spotted a pair of bats sleeping in the rafters.  But this purpose of this trip was not to spot any of the jungle's mammals (although Victor was hoping that his incredibly convincing monkey calls would entice them out of hiding), but to look at the vast array of foreign plants and exotic insects that thrive within the reserve, and enjoy being in the midst of the Amazonian rainforest.  I loved the bright colours, and interesting textures all around me, and although the forest can be a challenging subject for any photographer, I gave it a damn good go!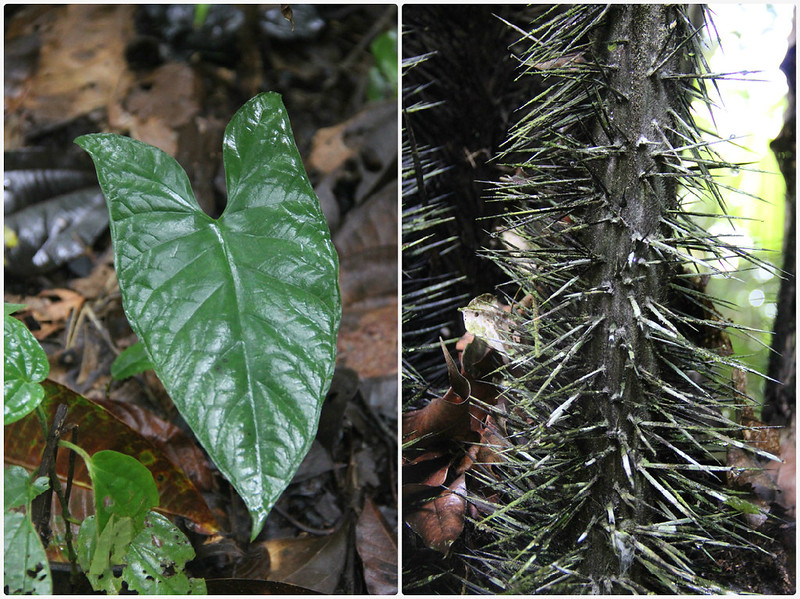 Victor possessed a wealth of knowledge about all manner of Amazonian flora and fauna. He spotted wildlife that was so well hidden to the untrained eye, knew the English name for even the most obscure species of insect or arachnid, and could mimic bird and animal calls to perfection. This was a man who lived and breathed the Amazon rainforest, and it showed.
He even managed to spot not one but two different species of poison dart frog. The little red fellow on the right was hidden within the leaf litter and ground level foliage that surrounded the massive tree in the photo below. What's more, he stayed still whilst we snapped photograph after photograph of him, each time moving the camera lens just that little bit closer.
On our walk back to the lodge, as the sun was beginning to peek through the trees, creating interesting shadows on the waters below us, we were also lucky enough to catch some brief glimpses of the Morpho butterfly. When it's resting, it's indistinguishable from any other butterfly species, yet when it opens its wings it reveals an amazing iridescent-blue colouring that has an almost hallucinogenic effect on you as it flutters through the air, disappearing almost as quickly as it appears. It's one of the largest butterfly species in the world, with a wingspan of up to 20 centimetres, and is indigenous to the tropical forests of Central and South America.
I'm guessing not all of Victor's customers have been as interested in this part of the tour as we were, and all credit to Victor for answering every one of our questions thoroughly and enthusiastically, and for patiently waiting whilst one or other of us disappeared into the undergrowth to photograph yet another flower, plant, or insect, but I understand we were rather late back for lunch. Whilst everyone around us was freshly showered and well-presented, we rocked up in our mud-caked wellies!
Our afternoon excursion entailed a trip up river, to a family-run sugarcane distillery, however Victor mentioned that if we were lucky enough we may get to see some sloths along the way. This possibility excited me, as I never imagined that I'd have the opportunity to see these strange and fascinating creatures in their natural habitat. I also didn't realise that their natural habitat was 20-30 metres above ground, in the tops of Cecropia (yeah, that's a new one to me too!) trees. Even looking through the lens of my little compact camera, using it's maximum (20 x optical) zoom, I could not have identified the 'gnarly tree branch' as a sloth, had Victor not pointed out the exact location of the sloth's arms and legs, and the direction in which its head was pointing. Their reputation for being the slowest mammal on earth only aids their incredibly successful camouflage within these trees.
I could smell the sugarcane distillery before we arrived there. The aroma of fermenting alcohol was almost overpowering as we stepped off the boat. Victor introduced us to a couple of members of the family, and then proceeded to explain the sugarcane making process to us, whilst allowing us to look at and photograph the rather archaic machinery.
Obviously we couldn't leave without tasting the final product, so the matriarch of the family lined up 4 different bottles, each accompanied by its own small plastic glass filled with a sample of the liquid for us to try. The first one was "pura" (pure cane liquor), followed by one "con miel" (honey), another "con jenjibre" (ginger), and a third "con 7 raices" (which tasted a bit like jagermeister).
Deciding that we'd rather come away with something to show for our 10 soles (as it was 'suggested' that if we didn't wish to purchase any liquor we tip the family for allowing us to have a look around their distillery and sample their produce), we then had to choose which flavour we preferred. Obviously that required us to taste them all again. So there we were, in the early afternoon on the banks of the Amazon river, getting merrily intoxicated on cane liquor. Not my usual style but when in the jungle 'n ' all…
So we came away with a bottle of this rather potent liquor "con jenjibre", along with an unacceptable amount of mosquito bites.   Realising that no amount of 40% deet repellent would deter the hungry suckers of the jungle, I felt so glad I'd chosen not to camp.
That evening, having watched a beautiful sunset over the Amazon river, we set out on our final excursion of the day – a night-time jungle walk. We donned wellies once again and ventured out into the pitch black armed only with a small torch each. As we climbed down the small set of wooden steps into the Yanamono Reserve, Victor gave us one warning,
"don't touch anything!"
Now this was easier said than done when you couldn't see 2 metres ahead of you, and everything was wet and slippery from the heavy rains earlier on that day.  So the first thing I did when I lost my footing on the wooden walkway was grip the handrail.  I've no idea what it was that found itself on to my hand, but it felt slimy as I used my free hand to remove it as quickly as I could.
Due to the humidity, I'd not worn a long sleeved top, and so shortly afterwards, something landed on my arm from above and bit me.  Again I removed it as quickly as I could but it had drawn quite a lot of blood.  Victor took one look at my wound and told me it was an ant bite.  After that, I didn't touch a thing, and kept moving in the hope that it would prevent any more ants (or worse!) from landing on me.
Now I'm not the kind of person who's scared of creepy crawlies, tarantulas, or snakes (which is a good job because we saw lots of all three) but I was glad the walk was over when it was, and the simple reason was because I was getting so irritated by the number of insects constantly buzzing around me.  I must have been complaining about this rather a lot, because Victor cut me off a leaf to use as a fly swatter/fan. It subdued me somewhat, but didn't really seem to be doing a very good job of keeping the flying insects away.
For our final morning in the jungle, after our second attempt at a sunrise bird-spotting tour had been a total washout, Victor had obviously picked up on my fascination with sloths after our previous sighting, and mentioned that his friend kept a sloth at a local conservation centre. So we made a short trip down the river, and stopped at what looked like a small dwelling on the riverbank. We greeted the gentleman in the grounds, who disappeared inside shortly afterwards and re-appeared holding this rather awkward looking sloth.
We were informed that as this was a young sloth and was not used to being handled yet, we should hold her from the back due to her sharp claws. I can honestly say she was the strangest creature I've ever handled. Firstly she didn't weigh anything; she felt hollow. A bag of sugar would have put her to shame. Secondly she didn't move when I picked her up – at all. Her arms and legs were stretched out at either side like she was about to perform some kind of ninja manoeuvre. Thirdly she reminded me of E.T.
Once she was back in her tree, I watched her as she began to move. Her movements were slow and fluid but she never stopped moving. She truly was one of the strangest and most fascinating creatures I've ever seen up close.
After the sloth, the gentleman proceeded to bring out a parade of other Amazon animals, the last of which was a Ocelot kitten which was clearly untamed and had a chain around its neck. My initial doubts as to the legitimacy of this 'conservation centre' had well and truly been confirmed.
Through Victor, I asked the gentleman how he had come to be in possession of an Ocelot kitten. The answer I received was that his cousin had been out hunting with his dog and had found the kitten abandoned by its mother. His cousin had caught it, taken it home and planned to sell it for a sum of money at the market in Iquitos, until the gentleman here had offered to take it off his cousin and look after it. Reading between the lines I suspect the mother had probably been killed, and that the gentleman here had seen a potential money earner in the kitten, along with all of the other animals he was in possession of.
Immediately I felt guilty for being party to what seemed to be a cruel act of greed and exploitation.  Reluctantly I paid my 10 soles for the privilege of seeing these animals up close and having the opportunity to handle them (with the exception of the Ocelot), a privilege which in itself I did appreciate.  I just didn't appreciate the circumstances that had (more than likely) brought the animals here.
Maybe the gentleman had 'rescued' the animals but I find it very convenient that he has one of each kind of Amazonian creature that the tourists may wish to see, and that the majority of these are youngsters. Yes, youngsters are more vulnerable and are therefore more likely to need rescuing, however whilst they are easy prey for other animals, they are also easy prey for humans too. They are also more appealing to the animal-loving tourists, and easier to tame. Furthermore I could not see any valid reason for keeping the Anaconda in confinement. It shouldn't require rehabilitation in order to be released into the wild, and likewise with the caiman, as for both of these species hunting is instinctive rather than learned.
As far as I could fathom, this was a low budget one-man zoo working for tips. What's more, it was a zoo that was indirectly being endorsed by Heliconia by the very act of their bringing tourists to the site. I don't suppose that the conditions these animals are kept in are monitored, and I suspect their welfare isn't either, and that's what I really struggled with. I also struggled with the 'conservation centre' label. Do Heliconia actually believe this to be a conservation centre or are they simply turning a blind eye to the whole activity? Concerns such as these really tarnished my whole experience of being in close contact with animals that I would normally only otherwise see on wildlife documentaries, or from an undistinguishable distance in their natural habitat.
As we headed back to the lodge my spirits were raised slightly when Victor pointed out a group of Iguanas, all basking in the tops of trees. Unfortunately they were too far away to get a decent enough shot to post on here, but it was lovely to see some of my favourite creatures in their natural habitat.
After lunch, it was time to make our long journey back up river towards Iquitos. We thanked Victor and the staff at Heliconia for their invaluable help and hospitality (and for their expert assistance in promptly fixing a leak under our washbasin!), and all too soon we were headed back towards civilisation.
I'd enjoyed our time in the jungle: I'd enjoyed the comfortable bed, good food, and the opportunity to see, touch, and learn about a myriad of plants, flowers, insects and animals of the Amazon. However, I felt that a large part of what I'd wanted to take away with me, was missing. I'd hoped to have the opportunity to meet and to learn about those who live within the Amazon rainforest, to understand the survival techniques they use, and the resources that the jungle presents for them. I'd hoped to be able to relate all the products I saw for sale in Belén market, to the plants from which they were sourced. In short I'd hoped to come away with the knowledge and skills to be able to make my own Sangre de Grado (Dragon's Blood).
In order to get a truly authentic Amazonian experience, maybe you have to embrace the lifestyle, and live as the rainforest dwellers do for the duration of your stay. With no roof over your head, you learn to make your own shelter; with no food on your plate, you learn where and how to source some; and when you get sick, you learn to make your own medicine.
This means that next time (and I hope there will be a next time), I brave the mosquitoes, and pack my fishing rod and my machete 😉
Read part one of my Amazon Adventures here
If you like this article, please follow along on Facebook or Twitter
This is part of the #SundayTraveler link up, the spot to be to get the lowdown on all things travel.