If you read my 2017 Travel Plans, Goals, and Aspirations post, you'll know that the way in which my year panned out with regards to travel was pretty close to the way I'd planned it at the start of the year (with the exception of travel within the UK).  I managed to take seven international trips, two of those to countries I'd never visited before, and one of those to a long haul destination that was on my 2017 wishlist.
It was also a great year for solo travel.  Copenhagen, Girona, and Luxembourg were all trips I took alone.  I also travelled to Kerala alone (although I did spend the following 10 days trekking with a bunch of people – albeit a bunch of people I'd only just met).
I was also super organised at the start of 2017: I already had three trips planned and booked before the year had even begun.
This year I have a long list of places and activities on my wishlist, but only two trips planned and booked.  One is a weekend in Liverpool with my mum for Mother's Day in March, and the other is a long weekend with two of my favourite girl friends, Kath and Gloria (with whom I've taken trips to Riga, Poznan, and Cluj-Napoca) – to Vilnius in Lithuania, in May.
The annoying thing about travel planning when you're in a couple (and especially when your partner shows no interest in planning the adventures; he'd much rather I do the research, itinerary building and booking) is that you can't just go ahead and book what you want when you want to book it.  I'm reliant on his financial input before I can do so.  Stu is self-employed so for the entire four weeks we spent backpacking through Myanmar and Thailand at the back end of 2016, he had no income (when you're self-employed you don't get holiday pay), so he had to do a helluva lot of work when he returned in order to replenish the funds in his bank account.  Consequently he elected not to travel with me much in 2017.
As a result – and now that his bank account is looking a lot more healthy – I'd kinda like to take more trips with him this year.  And as he works so much away from home, it's difficult to pin him down to actually finalise those trips.
For these reasons, my travel plans for 2018 are still floating around a long distance from the actual booking stage.  But here's where I'd like 2018 to see me exploring:
Namibia
It would be absolutely incredible if I could actually realise this dream.  Namibia is somewhere that's found its way on to my travel radar in 2017.  I read countless blog posts about this sparse, ridiculously photogenic, lesser-visited part of Africa, and it's got me pinning to my Namibia board on a weekly basis.
It was only when I saw a flight advertised on Secret Flying – roundtrip from Lisbon to Windhoek for €291 (£258) – that I seriously considered that it may be within my budget to visit the country.  Whether or not I can actually afford it will also depend upon finding some cheap enough flights from the UK to Lisbon (and at the right times) and getting the available dates to match up with the amount of annual leave I have to play with, including specific flexi day and bank holiday dates.  Plus of course there's the hire car and accommodation costs.
And to throw another factor into the mix, Namibia is an incredibly difficult place to explore without a car, so I would be dependent on Stu coming with me, in order to be the designated driver.  So, if you're reading this Stu, "pleeeease can we go to Namibia!"
In other words, I don't expect to make it to Namibia in 2018, but it would be absolutely incredible if I could make it happen.
Visiting Cape Town and exploring some of South Africa is also pretty high up my list.
Fes and Chefchaouen, Morocco
I visited Morocco many years ago in 2003, a whole 10 years before I started this blog.  It was my first time travelling kind of on my own.  I booked myself as a solo traveller on to one of Explore's trips.  We travelled in 4 x 4s through the Atlas Mountains, did some trekking, stayed in a traditional Berber village, and visited the cities of Zagora, Essaouria, and Marrakech.  It was an amazing trip that's left me wanting to return ever since.
I'm kind of gutted the only photos I have from this trip are poor quality film camera ones that I've since scanned to my computer (thus reducing the quality even more), but this one is one of my favourites:
Fes and Chefchaouen are two places I didn't make it to on this trip, but that have been calling my name over the past few years.  Fes for its tanneries and medina (which incidentally is the world's largest car-free urban area) and Chefchaouen quite simply because it's blue.  The whole town is painted blue; it's a photographer's dream.
Chefchaouen also boasts a stunning location perched beneath the peaks of the Rif Mountains, and is one of Morocco's prettiest towns.

The Azores
I could not believe it when I first saw photos of this group of Portuguese islands in the North Atlantic Ocean.  I could not believe they were part of Portugal; they looked so incredibly different to the Portugal I've spent a brief amount of time exploring, and so incredibly green and beautiful.  Fantastic hiking and road tripping territory.
What's more, they're still vastly unexplored by foreign visitors, which definitely added to their appeal for me.
Georgia (the country, not the US state)
Georgia's been on my wishlist for a few years now, but because either May/June or September are the best months to go in order to get the best chance of good weather across the regions I want to visit, I have a limited window in which to visit the country.  This is also somewhere I want to do a road trip (for easy of travel between destinations in a relatively short space of time), so I'm kind of reliant on Stu coming with me, which is part of the reason I never made it there last year.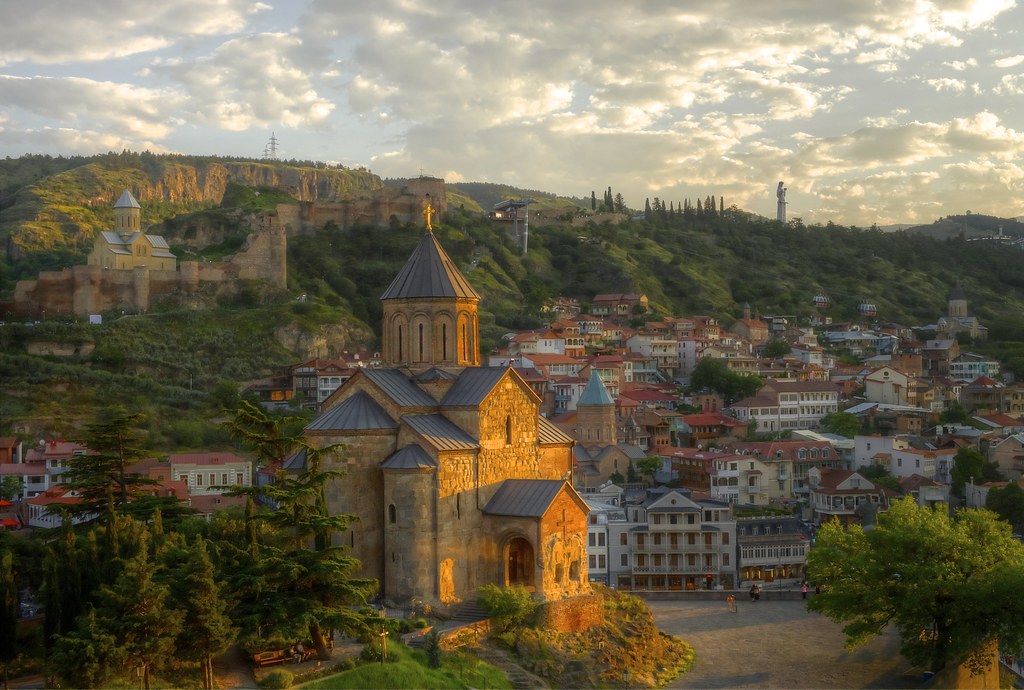 Georgia looks like an amazing country of stunning mountain landscapes, old stone churches and watchtowers, medieval fortresses and monasteries, and unrivalled Georgian hospitality.  This year I plan on visiting for my annual birthday trip in June, flying into Kutaisi and exploring Tbilisi, Svaneti, Vardiza, Kazbegi, and Kakheti.
Did you know that the country claims to be the birthplace of wine? I'll be aiming to find out whether that is true and to sample a few of their finest.
Oslo, Bergen, and the Trolltunga hike, Norway
Much like a lot of people I'm sure, it was a photo similar to this one that persuaded me to add the Trolltunga hike to my travel hit list.
It's a long hike (around 12 hours there and back) so not one I fancy doing in wet weather or in the middle of a snow storm, which means that I'll have to fit this trip in during the summer months.
And, seeing as though I'll more than likely be flying into Oslo (the cheapest flights from the UK are to Norway's capital), if I'm going all the way to Trolltunga then I may as well go a little bit further to Bergen, too.
Because Bergen does look ridiculously beautiful.
Vilnius, Lithuania
This is one of the trips I already have booked and paid for, so I know that I will at least be able to tick one new country off the list at the end of the year.  The main reason Gloria, Kath and I ended up choosing to explore Vilnius is because we found cheap flights over a weekend we were all free, to a country none of us had visited before.
I've hardly explored the Baltic states at all yet (with the exception of a wintery weekend in Riga), so I'm keen to discover what else the region has to offer.
Puglia, Italy
I absolutely adored the self-guided cycling adventure along the Adriatic coast from Venice to Porec I embarked upon back in 2012 so much that I've been keen to do another one ever since.
Self-guided trips come with all the benefits of booking a tour (your luggage is transported for you and the logistics of the trip have been pre-arranged) without many of the drawbacks.  So long as you get from point A to point B (with the aid of a map and the trip notes provided) within the scheduled timeframe, what you do in between and where you stop is entirely up to you.
Puglia is another place my parents visited and loved (I've also travelled to Montenegro, Turkey, and China following their recommendations), and it remains a lesser-visited part of Italy even today.
The cycling tour starts in Matera (I'm hoping to book a couple of nights here before the trip; read this post by Along Dusty Roads to find out why) and continues on through Alberobello, Ostuni, Gallipoli, Otranto, and Leece.
On top of these trips I'd love to squeeze in some long weekend breaks to Stockholm and Bilbao, and Cambridge, Lincoln, and York in the UK.
I failed miserably at my goal last year to explore more of my home soil, so I'm determined to take at least one more UK trip this year than I managed last year (so anything in excess of one is good!).
My goals from last year – to visit at least one new country and take at least one long haul trip – still stand for 2018 too.  If I manage to visit ALL the destinations on my list above then I'll be ticking off four new countries and one long haul destination.  So, if I don't make it to Namibia then I'll have to find another long haul destination to visit in order to complete this goal.  The following are still on my list, in no particular order:
Nepal
Sri Lanka
Borneo
Sumatra
Colombia
Personal and Blogging Goals
In last week's post I talked about how I got on with the personal and blogging goals I'd set myself at the start of 2017, and about how I'd inadvertently been stupidly over-ambitious.  This year I'm being a lot more realistic.  Yes it's good to dream but I did feel rather disheartened when I first realised just how much of what I wanted to achieve, I hadn't.  Here's what I hope to achieve in 2018:
To complete my first half marathon.  Yes, I realise this is crazy (I only started running in April of last year), but I was really pleased with my progress last year, and I managed to run two 10K races without too much difficulty.  The Shrewsbury half marathon takes place on the 17 June 2018, and – providing I can arrange my birthday trip to Georgia around it – I'm booking myself a place on it.
To create a media kit and a "work with me" page.
Create Pinterest graphics for all my posts that don't currently have them.  I managed a fair chunk last year but I still have a long way to go.
Work on a comprehensive guide to my hometown, Shrewsbury – things to see and do, where to stay, eat, drink, and shop.  We never fully appreciate where we live, but Shrewsbury (although fairly unknown to tourists outside of England) is a beautiful, quaint, medieval town with some fantastic restaurants and a thriving cultural scene.  This was on last year's list, let's see if I can make it a reality this year.
To always have at least two posts written and scheduled.  Last year's goal of publishing two blog posts a week was just not feasible, knowing my preference for long-form narrative and my perfectionism.  This one is a lot more doable, because as  I write this I already have three posts written and scheduled (this is the fourth).
To find some more freelance work.  My contract with Go, See, Write came to an end last year (although none of my fellow guest writers, or the blogger managing the admin of the site, seem to know why), so I need to get some more work coming my way.  If you're interested in working with me (only paying opportunities please; I have rent to pay), please head over to my "about me" page and drop me a line.
To read a book every month.  This is another of my goals from last year that I didn't manage to achieve, although I'm sure if I added up all the blog posts I'd read over the year, it's probably equivalent to reading 12 books!
I'm going to stop now before I get carried away, as there are so many things I'd also love to do/get sorted in my new house, but I think I'll just settle with getting my pictures on the wall 😉
Which countries/regions/cities/towns do you hope to visit in 2018? Have you set yourself any personal or work goals or aspirations?  Let me know in the comments below!
---
If you like this article, please share it on social media using the share buttons at the top of the post.  Alternatively you can follow along on Facebook, Twitter, or Google+ or you can look me up on Instagram or Pinterest too!
PIN ME!!!