Ten years ago it used to be from the pages of a travel magazine that we'd take inspiration for new trips.  Now it's Pinterest.
At least it was when I was browsing my Pinterest feed one day that I found the inspiration that prompted my visit to Turkey.
If you've ever seen photos of the strange and surreal 'fairy chimneys' of Cappadocia, you probably experienced a similar reaction to the one that I did.
Firstly you asked yourself,
"are they real?"
Promptly followed by,
"I want to find out!"
And find out I did.  I subsequently planned and organised a 10-day journey around Turkey that would see us visiting incredible Istanbul, Pamukkale (home to another of Turkey's bizarre natural phenomena), and Cappadocia.
Cappadocia is a region in central Turkey that is home to one of the most surreal and spectacular landscapes in the world.  Thousands of years of erosion shaped the terrain and, taking a cue from Mother Nature, humans began carving a network of caves and tunnels into the soft rock, starting as early as the fourth century A.D.
Göreme National Park and the Rock Sites of Cappadocia were declared a World Heritage site by UNESCO in 1985 as a result of the ancient underground settlements and outstanding examples of Byzantine art that can be found there.
As our bus pulled in to the cave-ridden town of Göreme at dawn, hundreds of colourful hot air balloons were floating across the horizon.  It was a beautiful sight to be greeted with and gave me a good feeling about our next few days in Cappadocia.
We checked into the Nirvana Cave Hotel (many of the accommodation options in Goreme offer rooms inside a cave; some with views across the valley, too) and set about exploring the area.
Day One – Goreme Open-air Museum and Red Valley
The Göreme Open Air Museum is just 1.4 kilometres from the centre of Goreme and is a great introduction to the history and landscapes of the Cappadocia region.  Initially Göreme Open Air Museum was an important Byzantine monastic settlement that housed around 20 monks, and was subsequently used as a pilgrimage site from the 17th century.
There are over 30 churches here, mostly dating from the second half of the ninth to the end of the 11th century.  Many of the beautiful frescos that once decorated the walls and ceilings of these churches have worn away or have become weather-damaged over time.
The best-preserved examples can be seen inside the Karanlik Kilise (Dark Church); entering incurs a small admission fee which covers the ongoing restoration work.
---
Opening hours: 8:30am-6:45pm Apr-Nov, to 4:45pm Dec-Mar
Entrance fee: 30 lira (£7.58 / $9.49) If you want to go inside the Black Church you'll need an additional 10 lira, but it's well worth it in my opinion.
Fun tip: If you hang around outside the entrance, you'll notice a couple of cheerful costumed gentleman putting on a bit of a show for curious onlookers.  What looks like a giant marshmallow being stretched as if it were elastic, is actually ice cream (the cones stacked up at the side of the photo is the only thing that gives that fact away).
---
Upon leaving the museum we ventured into the first of Cappadocia's unique collection of valleys, Kizilcukur – more familiarly known as the Red Valley.
As we quickly discovered, although many of the valleys do have trailhead signposts, there is very little in the way of signage once you actually get into the heart of the disorientating maze of caves and pathways.  There's the odd red arrow painted on to the rocks, reminiscent of Sarah's lipstick markings in the cult 80s film, 'Labyrinth' (which is still one I never tire of watching), and it almost becomes a game to see who can find the next red arrow.
We spent (I won't say "wasted" because getting lost here is so much fun!) hours following the narrow pathways as they led upwards, downwards, through caves and painted chapels, amidst prickly undergrowth and beautiful yellow flowers.  We were even greeted by the odd goat, a cowbell around its neck jangling as it ate its way through yet another plant, flower, bush, or small tree (goats aren't fussy!).
As we made it down into the heart of the valley itself, the track evened out and we were passed by several mountain-bikers and groups of organised horse-riding treks.  I must admit that, having discovered just how vast the landscape is here, I couldn't help thinking that a bicycle (or horse in fact!) would have been quite a useful piece of transport.
However, whilst walking over a terrain of loose gravel and rocks of varying sizes hadn't been a problem, cycling over it would have been substantially more challenging.  Especially given the heat, which seemed to be crawling closer to what you'd expect in the height of summer (it was April when we visited).
Although Cappadocia's valleys can appear inhospitable, the mineral-rich soil found here is perfectly suited to the cultivation of fruit and vegetables.
It was beautiful to see that, although the caves are no longer occupied, the area that surrounds them is still being used by its inhabitants as part of their livelihood.  It made a softer, more familiar contrast to the stark unfamiliarity of Cappadocia's bizarre rock formations.
We made it back into Goreme just in time to see the town and its surrounding valleys bathed in golden light.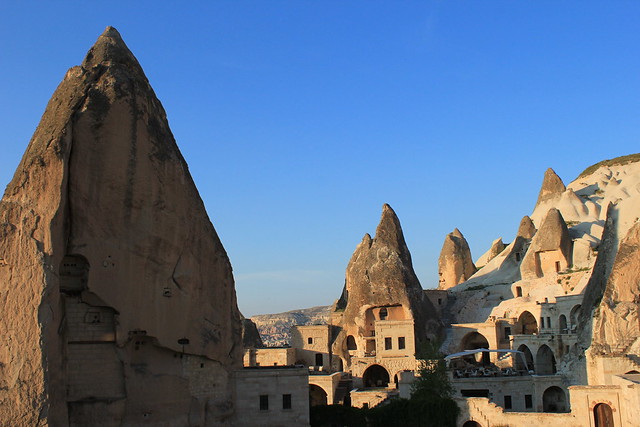 A final climb to "Sunset Point" (the highest point in Goreme) ended our first day in Cappadocia.  And I was more than a little excited to see what the second had in store!
Day Two – The Green Tour with New Goreme Tours
Normally I'm not one for booking tours when I'm travelling independently.  It gives you a greater sense of adventure if you've planned, arranged and executed the excursion yourself, and it's also, more often than not, a lot cheaper.
However many of the sights farthest away from Cappadocia's major towns are impossible to visit in a day, purely because of the limited public transportation available in the area.  The local buses are fantastic for short hops, but there's often only one or two buses per day to more remote destinations.
So we decided to take a tour, known around Cappadocia as the Green Tour.
Most of the tour companies in Goreme run a similar tour, but New Goreme Tours had some pretty good reviews on Trip Advisor and Lonely Planet describe them as "fun and friendly."  We definitely found this to be true when we visited the office to book our trip.  The staff brought us copious amounts of Turkish tea, taught us a bit of the language, and seemed genuinely keen to sit around and chat with us long after they'd taken our money.
We started the tour with a brief stop at Goreme Panorama, which is a cluster of cafes and shops built along the edge of a cliff just outside Goreme.  As the name suggests, there's a fantastic view from up here, of the town and its valleys.  You can watch farmers ploughing their land, children playing, and the odd donkey tied up against a rock.
The panorama stretches all the way from Goreme to Uçhisar, where you can spot the unusual-looking 'castle' at its highest point.
We then hopped back on to our minibus and started the journey south to Derinkuyu Underground City.  Of the vast network of underground cities in this region, thought to have been carved out by the Hitties, Derinkuyi is the largest.
Derinkuyu (meaning "deep well") is 85 metres deep, has fresh-flowing water, ventilation shafts, and individually separated living quarters, shops, communal rooms, well, tombs, arsenals, escape routes, and the potential to house up to 20,000 people.
Wandering through the narrow and low-ceilinged corridors (i'm only 5'1 and I had to pretty much walk on my haunches through a few of the connecting tunnels) and exploring the network of rooms and (four open) floors they connected, gave me some idea of the immense scale upon which these cities were built.
What an enormous feat that must have been in an age where electricity – and therefore motorised tools – had not yet been invented.
As interesting as it had been to be immersed in part of Cappadocia's underground history, it was nice to get out in the Spring air and feel the sun on my back once again.
Our next stop was The Ihlara Valley.  We followed the Melendiz Suyu river as it snaked its way through a sea of greenery dotted with pretty yellow Springtime flowers.  Painted churches, piles of boulders, and tall trees lined the pathway, and all around me were the sounds of birdsong and of water gently rippling past.
Midway alone the valley, at Belisırma, a cluster of riverside cafes invite you to quench your thirst, satisfy your hunger, and take in the beauty of your surroundings.
You can also watch your Turkish flatbread (Pide Ekmegi) being cooked to order: a woman in modest, traditional dress, wearing a headscarf, sat astride a small wooden table very close to the floor, is rolling out the dough.  Once it's thin enough she passes it across to the gentleman beside her who cooks it on a cymbal-shaped surface above a roaring open fire built into the ground.
These flatbreads can be ordered with various different fillings or toppings, and are usually fairly cheap (and filling!).
After stopping for lunch at a riverside restaurant at one of the neighbouring villages, we were then driven to Selime Monastery.  There is no doubt that this is THE most unusual monastery I've ever visited.
I absolutely loved getting lost in this maze of rabbit warrens built into the rocks.  There are so many parts to climb and to squeeze through, so many nooks and crannies, and tiny little holes in the rock to peek through, and so many dips and mounds.  It really brought out the inquisitive and adventurous child in me.
Incidentally the views from up here are also incredible.
The only problem with organised tours is that they never give you enough time at sights and attractions.  I hate clock-watching when there is exploring to be done!
Our last stop for the day was Güvercinlik (Pigeon Valley).  We arrived at around 5:30pm (sunset was at 7:30pm).  It was that time of day when there's still plenty of light around but the sun is low enough in the sky to create those lovely long shadows, and highlight the beautiful colours in the rocks.
Would we have been able to see everything that we did, in the time that we had, without booking a tour? Absolutely not.
Day Three – Uchisar, White Valley and Love Valley
Our last day started ridiculously early, and saw us floating above Cappadocia's beautifully bizarre landscapes at sunrise.  It was one of the most amazing and memorable experiences of my life.  We hit the ground with a bump (thankfully not literally) when we landed, so we picked ourselves up with a second breakfast.  At 6:30am.
What this did mean though, was that we had hours of time to fill our final day with.  We started by hopping on one of the local buses to Avanos, a small town about eight kilometres from Goreme.  Avanos sits on the banks of the Kizilirmak (Red River), the longest river in Turkey.  It is by this river that the red pottery clay is found, from which Avanos derives its main livelihood and its foremost claim to fame.  Pottery has been produced in the Avanos area for centuries, and the town is a mass of family-run potteries.
The articles produced here are colourful and ornate, but if browsing the potteries themselves is not satisfying enough, you can always watch one of the beautiful pieces being thrown, or even have a go yourself.
Just over an hour and a short bus ride later we found ourselves climbing the streets of Uchisar, towards its castle.  Uchisar is a pretty little town and its castle is a tall volcanic-rock outcrop riddled with tunnels and windows.
There's a small entrance fee to get into the castle, but it's worth it as much for the views as the structure itself.  You can purchase freshly squeezed orange or pomegranate juice at the top, sit down at a little makeshift table on a couple of tiny stools marvel at the spectacular panoramas all around you.
Rather than retracing our steps back through Uchisar's streets in order to get to the main road to Goreme, we wove our way through rock formations on narrow gravel tracks that clung to the hillside.  Boulders like the one in the photo below appeared to be balanced so precariously that it was equally mystifying to wonder not only how they got there but also how they stayed there.
The long walk down towards Goreme would take us through Bağlıdere (White Valley) and also through Cappadocia's most famous valley – Love Valley.
Now there's not a lot to see in White Valley, and it's an incredibly long walk to get to Love Valley when you're running low on water supplies in the sweltering heat of the early afternoon sun (helpful tip: buy plenty of water before leaving Uchisar!).
However the track is shaded and you can walk along the riverbed in parts, so it makes for a lovely, peaceful amble through the trees – close to nature and far from other tourists.
We'd already flown over Love Valley just hours beforehand in a hot air balloon, but I was curious to see its striking phallic (there's a reason it's called "Love Valley") rock formations from the ground.
Also recognised as outsize mushrooms, and known locally to the villagers as "kalelar" (castles), these giant phallases adorn Cappadocia's postcards.  These were formed when erosion wiped out the lava covering the tuff (consolidated volcanic ash), leaving behind isolated pinnacles.
They can reach a height of up to 40 metres, and whilst the one I'm standing beside is probably not quite that tall, it gives you some sense of  just how imposing these natural creations can be.
When we popped out on to the plain at the heart of Love Valley, we were greeted with a little makeshift cafe: a camper van that opened out into a covered wooden structure which contained several sofas that looked like they'd been plucked straight from grandmother's living room.
Surreal as it was to see it in a landscape that was so alien to me, and so devoid of people, I was grateful for that little cafe and their rich pomegranate nectar.
Sometimes you don't realise just how thirsty you are until you drink…and drink…and drink.  They may not see many people there but at 5TL per drink, the number of those bought by a single person in a single visit probably makes up for that tenfold.
Despite feeling as though I'd walked a marathon (accounting for the fact that it's six kilometres from Uchisar to Goreme by road, we may well have walked half a one!), and being unable to hydrate myself no matter how much I drank, I was pleased about how much ground we'd manage to cover on our third and final day in the area.
Cappadocia is a fascinating part of the world, and unlike anywhere else I've ever visited.  And with just three days in the area you can (providing you're up for a lot of walking) explore a fair old chunk of it.
So, if you fancy being inspired to discover somewhere remarkable – somewhere like Cappadocia – then Pinterest's catalogue of ideas is a pretty great place to start.  I can't wait to see where my aimless browsing will take me next.
(shameless plug: you can follow me here)
---
Practical Info
I visited Cappadocia as part of an independently organised 10-day trip around Turkey.  You can read my full 10-day Turkey itinerary here.
We booked return flights to Istanbul with Turkish Airlines via Skyscanner.  From Istanbul you can fly to Kayseri (the closest airport to Cappadocia).  However we arrived on a overnight bus from Pamukkale, which brings you right into Goreme.  Goreme is where you'll find the majority of accommodation options in Cappadocia, and you'll be well-placed here to explore all the major sights in the region.
---
PIN ME!!!
If you like this article, please share it on social media using the share buttons at the top of the post.  Alternatively you can follow along on Facebook, Twitter, or Google+ or you can look me up on Instagram or Pinterest too!
**Some of the links in this post are affiliate links.  All this means is that if you make a booking through one of the links I have provided, I will earn a small commission as a result but the cost to you will remain exactly the same**