Whenever I'm planning trips, my choice of destination is often swayed by the lure of cheap flights, and it's only when I've booked those flights that I really look into the logistics of organising an itinerary. Most of the time it works out fine that way, but occasionally it doesn't.
It's a tricky decision for most travellers: do you meticulously plan the itinerary and then realise that you can't get the flights to work? Or do you book the flights and then risk the possibly of having to deal with the fact that actually the itinerary would've worked out a lot better if you'd have flown into one airport and then out of another?
Because that's exactly what happened to us when we spontaneously booked our flights to Uganda, just 25 days before we were due to fly.
We'd bought return flights from the UK to Entebbe, but when we begun researching an itinerary of things to do in Uganda, we quickly came to the realisation that we would've been better off flying into Kigali, Rwanda (ironically our inbound flight actually stopped in Kigali before heading on to Entebbe) and out of Entebbe. The reason? Some of Uganda's most incredible landscapes lie close to the Rwanda border, but are actually an 11-hour bus journey from Entebbe (and involve a change in Kampala).
Convinced that it was still possible for us to make it over to Kisoro (in order to hike Mount Sabinyo) and Lake Bunyoni, as well as going chimp trekking in Kibale Forest, and spending time in Entebbe, with a short stopover in Kampala, I spent countless evenings researching and putting together an itinerary, which I then presented to Jayne.
She liked it, but she pointed out that – out of the 10 days we had in Uganda – we'd actually be spending about three whole days on the road. She was also very unsure about the precarious scrambles up and down wooden ladders as part of the Mount Sabinyo hike – but that's another story.
The short end of it is that we decided upon a more leisurely itinerary in the end, which would see us spending time in Entebbe and Kampala, and heading up to Murchison Falls to go on safari, take a boat trip up the Nile and see both chimps and rhinos in their natural habitats.
But, seeing as though I don't want all those hours of research to have gone to waste, I thought I'd share our 'other' itinerary with you as well. If you don't mind spending a lot of time on the road and being constantly on the go, and you're not scared of ladders or heights and have a good level of physical fitness then it could well be right up your street. What's more, if you fly into Kigali (instead of Entebbe) then you'll immediately shave a day off the itinerary, which means you'll have an extra day to spend at one of places you'll be stopping at.
Firstly, here's our itinerary.
Uganda Itinerary One: Take it Slow in Uganda
Day One | Arrival into Entebbe, explore Entebbe
Our flight was scheduled to land in Entebbe at 03:55, but was about an hour late, so by the time we'd arrived at Blue Monkey Guesthouse, it was around 05:30. The security guard greeted us and showed us to our tent (which, by the way, was amazing!), and there was a lovely note from our hosts on the table, welcoming us and asking us to choose what we wanted for breakfast in the morning (well, in about three hours time!).
I managed a couple of hours sleep (ear plugs and an eye mask are a Godsend when the sun is rising outside your tent, there are barking dogs and chickens around, and planes taking off and landing every half an hour), and stumbled through the beautiful garden to the shower block before sitting down to the most amazing breakfast spread.
We spent the rest of the day simply having a wander around town, and accidentally getting some of the worst sunburn of our lives (top tip: even if it's cloudy and rain is forecast ALL DAY, do NOT leave home without your sunscreen). I blame sleep-deprivation for our stupidity!
Day Two | Explore Entebbe
I've actually written an entire post entitled 'More Than Just a Stopover: 7 Wonderful Things to Do in Entebbe' so I won't go into too much detail here, but in a nutshell, don't miss the following activities:
Take a stroll around Entebbe's botanical garden
Shop for souvenirs at Entebbe Craft Village
Pose for a photo at the 'other' equator sign on Lwaji Island
Visit Café Phileo / Calvary Chapel and the Nakiwogo Market
Get up close and personal with a chameleon or two at Entebbe Reptile Village
Relax on the shores of Lake Victoria with a cocktail in hand at 2 Friends
Enjoy some quality Thai food at Thai Garden
Entebbe is actually a lovely, laid back town and a fantastic place to spend a few days. We always felt safe (even when we got lost once after dark!) and everyone we met was friendly and returned our greetings with a smile.
Day Three | Morning in Entebbe, travel to Kampala, overnight in Kampala
We organised our travel to Kampala with Pineapple Express (not to be confused with the hilarious film of the same name!). It is possible to catch a matatu (licensed minibus taxi) all the way to Kampala, but they cram their passengers in so tightly that there would never be enough space for you and your backpack.
Pineapple Express run shuttle services between Entebbe, Kampala and Jinja. You can book over the telephone or online, and the best thing is that they offer a door-to-door service, which means that you don't have to mess around trying to figure out how to get to the collection point or to your final destination the other end. You can view the timetable below (correct March 2019).
A one-way fare (per person) between Entebbe and Kampala is 42,000 UGX (or $12) but, due to the fact that Red Chilli Hideaway (where we were staying the night before our safari) is the other side of central Kampala and getting through the city's crazy traffic is incredibly time-consuming, we were required to pay an additional 10,000 UGX each – which neither of us minded for the convenience. And this was made clear from the outset.
Whilst Red Chilli Hideaway is situated in a lovely location amidst lush green vegetation on the outskirts of Kampala, there is absolutely nothing to see or do nearby (we struck lucky and gatecrashed a small religious music festival a few streets away) so you're kinda restricted to staying and eating on-site, and there's not much in the way of entertainment here.
Day Four | Travel to Murchison Falls via Ziwa Rhino Sanctuary
Seeing as though we had to cover almost 300 kilometres today, and that the roads beyond Msindi were nothing more than dirt tracks, we spent approximately five hours in transit. We were sharing our nine seater minibus with four other Brits and our driver for the next few days – Ronald.
We arrived at Ziwa Rhino Sanctuary around lunchtime when all the rhinos were napping in pockets of shade beneath the trees. Ziwa is a private, not-for-profit organisation that was established in 2005 and is working hard to protect and grow the white rhino population in Uganda. It covers a massive 70 square kilometres of land and is currently the only place in the country where you can see rhinos in the wild.
It was a little concerned that the park ranger who guided our trek didn't carry a gun with him; his only advice was that we weren't to get closer than 7-10 metres from the rhinos and that if one or more of them did charge, we were find the closest tree and hide behind it (or climb it if we were physically able to do so). Fortunately though, the sun was too hot for them to consider moving anywhere.
At the Red Chilli Rest Camp (which was so much better than the Red Chilli Hideaway), we had our own twin-bedded tent, hot showers, delicious, hearty home-cooked meals, and we were joined every night by a couple of tame warthogs.
Day Five | 4-hour Game Drive, 2-hour boat trip along the Nile and a hike up to Murchison Falls
This was my absolute favourite day of the entire trip and, as we crossed over to the north bank of the Nile in order to begin our game drive, it started with this incredible sunrise.
Within 15 minutes of driving our local guide and park ranger had spotted a small group of elephants emerging from the undergrowth.  I've only ever seen elephants in the wild once before, during a trek through the tea plantations of Munnar in Kerala, so I was more than a little bit excited to catch my second glimpse of them in their natural habitat.
I also couldn't believe how many giraffes we saw and how ridiculously close to them we got.  I'd always assumed that I wouldn't be able to get any quality photos on safari without a decent zoom lens on my DSLR (which I don't have), but for the most part that absolutely wasn't true. 
The only time a zoom lens would have been absolutely essential was to capture the lioness (or rather, three lionesses) we witnessed hunting some kind of antelope or deer.  I honestly don't know how our guide managed to spot the initial lioness, she was so well camouflaged behind a bush on the scrubland.  But, even in spite of having only this very distant (and not entirely in focus) shot, I'm so glad he did.  This shot was taken with my little compact Canon SX710 Powershot camera, on its maximum 30 x zoom, so you can tell how far away she actually was!
By the end of the 4-hour game drive, we'd seen elephants, giraffes, lions, all manner of different antelopes and deer, warthogs, baboons, black and white colobus monkeys, red-tailed monkeys, buffalo, and countless bird species.  Considering this was the first time I'd ever been on safari,  I'd say it was a pretty successful little jaunt.
In the afternoon we set off on a 2-hour cruise up the Victoria Nile to Murchison Falls.  This is an absolute must if you're a bird lover, we saw so many colourful and unusual species along the route.  We also saw plenty of hippos doing what hippos do best – basking in the shallow waters, almost completely submerged beneath the surface.
Our day of activities culminated with a hike up to the top of Murchison Falls, which – as we were told by a lady we got chatting to on the boat – we were lucky to be doing later on in the afternoon, due to the stifling heat and lack of shade on the trail.  
It's a short (one hour) hike and not technically difficult, but there are a lot of steps.  There's some pretty incredible views along the way though and standing at the top of the falls, watching the water gushing down into the chasm below, really will leave you lost for words.  
Day Six | Chimp tracking in Kaniyo Pabidi, Budongo Forest, return to Kampala
After Kibale Forest, this is supposed to be the best place to track chimps in Uganda (i.e you have the greatest chance of spotting them).  However, we were starting to doubt this after about an hour of walking along disorientating forest paths, past curiously-shaped trees, ants nests and giant spider webs, and having seen no signs of chimps having been nearby.
Just as I was starting to worry that what was supposed to be a highlight of the trip for Jayne may never actually materialise (the chimps in this forest are wild animals, so you're never guaranteed a sighting of them), our guide and forest ranger beckoned for us to follow him into the undergrowth.  We attempted to do this quietly, but have you tried to tiptoe across a forest floor without making a sound?  It's impossible! 
Fortunately for Jayne and I, while the others bounded on ahead we happened to glance to our right and spotted this beautiful fellow – simply sitting there, chewing on the odd leaf or two and occasionally staring curiously in our direction, seemingly unconcerned by the constant clicks of our shutter buttons as we snapped photograph after photograph.
Most of the other chimps we were able to see were sitting high up in the trees, far from our prying eyes (and cameras!), but we were really lucky towards the end of our chimp tracking experience to witness a small group of them swinging their way down from the top of the trees to the forest floor, literally right above our heads.  
We arrived into Kampala around 17:00 hours and that's where our 3-Day Big 6 Safari came to an end.  If you're thinking of booking something similar, we arranged ours through Red Chilli for a total cost of $530 per person (which includes an overnight stay at Red Chilli Hideaway in Kampala the night beforehand).  Considering how much we did and saw in those three days, I'd say it was pretty good value for money.
Our base in Kampala for the next two nights was the centrally located Bushpig Backpackers Hostel.
Day Seven | Explore Kampala
Kampala is Uganda's capital and is a huge city (over two million living in an area of 189 square kilometres) that once spread over seven hills but now incorporates 22 of them!  The roads are so congested in the city that only real way to get around is by motorcycle – more specifically by motorcycle taxis known as boda bodas.  I'd spotted a Kampala Boda Boda City Tour online with Walters Tours, who had really good reviews and supply all their clients with helmets.
However the taxi driver who dropped us at Bushpig Backpackers the evening before put the wind up us by informing us that he sees people riding boda bodas being carted off to hospital on a daily basis.  Of course he could just have been trying to drum up business for him and his peers, but it was enough to make us reconsider.
Being keen walkers (and far too over-ambitious walkers at that!), we decided instead to put together an itinerary that we could complete on foot.  
Our itinerary took in the following sights:
Old Kampala National Mosque (also known as Gaddafi Mosque)
National Museum of Uganda
Namirembe Cathedral
Kibuli Mosque
Independence Monument
Banana Boat Craft Market
Craft Village (behind National Theatre)
According to Google Maps, the actual walking time was approximately three hours plus time spent at each of the sights, which we thought was completely doable in a day.  But then the road that Google indicated that we should take to the National Mosque was blocked off by armed guards and, as we weren't connected to wifi, my phone couldn't re-route, so we had to abandon our meticulously planned walking route and find our own way there.  This took an hour and a half!  And it was 40 degrees on the streets of Kampala.
To cut a long story short, we managed to make it to around three of the places we had on our list.  But we did – albeit accidentally – get to walk through parts of downtown Kampala that it appeared no other foreign tourists do.  Plus, the mosque was pretty amazing inside.
And the views from the top of the minaret weren't bad either.  In fact, we could see all of Kampala's original seven hills from up there.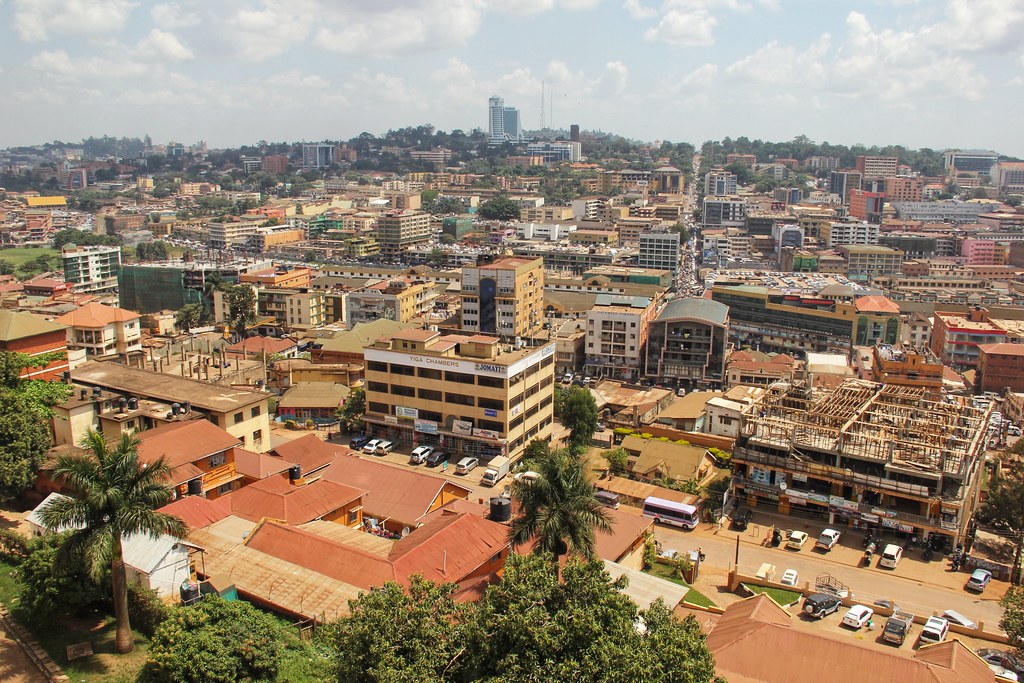 Day Eight | Travel to Entebbe, overnight in Entebbe
Once again we booked our transfer between Kampala and Entebbe with Pineapple Express.  On both occasions I found them to be professional, efficient and on time (considering the traffic in Kampala, I consider 10 minutes late to be on time!).
We chose once again to stay at Blue Monkey Guesthouse, because we had such a positive experience the first time around.   The hosts, Albrecht and Andrea had made us feel so welcome that when we arrived here today, it really felt as though we were returning home.
[button link="https://www.booking.com/hotel/ug/bluemonkey-gusthouse.en-gb.html?aid=398312″ bg_color="#348a64″ border="#348a64″ window="yes"]Book your room at Blue Monkey here[/button]
You can also witness some incredible sunsets from Blue Monkey's garden.  Due to its slightly elevated position, it offers spectacular views across Lake Victoria.
Day Nine | Explore Entebbe
We spent our final day at Entebbe's Reptile Village, where I got to hold a two-week old chameleon and Jayne got inside the crocodile enclosure (long story, don't think it was strictly allowed but she was supervised!)
We'd planned to hire bicycles (available from our guesthouse for $10 per day) in order to get there, because the route passes through some lovely little rural communities once you turn off the main Kampala–Entebbe highway.  However, having adjusted my bike saddle to its lowest position, it still wasn't low enough for me to get even my tiptoes on the floor (one of the perils of being only 5'1) so we had to abandon that idea and turn to public transportation instead.
There's far less traffic in Entebbe so boda bodas are a lot safer here.  We used a combination of matatus and boda bodas to make the 8.2 kilometre journey from our guesthouse.
Day 10 | Fly Home
Albrecht and Andrea arranged a taxi to the airport for us.  We paid in UGX rather than US dollars this time around, which knocked $5 off the price.  We paid $15 on the way to Entebbe and the equivalent of $10 for the return journey.
---
Uganda Itinerary Two: On the Go in Uganda
Day One | Arrive into Entebbe, transfer to Kampala and on to Kisoro
If you're on the same flight as us, you'll arrive at 03:55 hours.  As the journey to Kisoro is the longest bus journey you'll make on this itinerary, I thought it best to get it out the way on the first day.  You'll be so tired after that overnight flight that you'll probably manage to get some sleep on the journey.
Post Bus.  Every morning five buses leave Kampala's main post office at 07:00 hours, headed for Kisoro.  The price (at time of writing) is $10 and the journey takes somewhere between nine and eleven hours.
Bismarken Bus and Jaguar Executive Coaches also run daily services.  Jaguar leave Kampala at 08:00 hours,  but I couldn't find out the exact time of departure of the Bismarken bus online (let me know if you manage to!)
As a last resort or the guaranteed most comfortable and convenient option, it's possible to hire a car and driver to take you there from $90 per day.  Both Alpha Rent A Car and Roadtrip Uganda are recommended in my Bradt Uganda Guidebook.
We planned to stay at Sawasawa Guesthouse, which gets great reviews.  They don't have a website but you can send them a message on their Facebook page.
Make sure you get an early night as there's a big day of hiking ahead!
Day Two | Hike Mount Sabinyo
Kisoro is set at an altitude of 1900 metres and is within 10 kilometres of the Rwandan and Congolese borders.  And that's what appealed to me about this hike: at the peak of Mount Sabinyo, you can stand in all three countries at once.  
It's not an easy hike but is doable in a day (approximately four hours up and four hours down), and sees you climbing to altitudes of 3645 metres.
It's possible to simply rock up at the Mgahinga Gorilla National Park entrance early in the morning, in order to secure your place on this hike.  Permits are $85 and if you want a porter, that will cost you an additional $15-25.  You can find out more about the hike here.
---
Day Three | Travel to Lake Bunyoni
I know I've included this in the 'on the go' itinerary but Lake Bunyoni is all about relaxation, and you'll need it after yesterday's hike!
You can catch a ride with Horizon Coaches to Kabale (journey time is approximately two hours) and then a shared taxi on to your accommodation, which will cost around 25,000 UGX / $6.71.
We earmarked a Geo dome at Byoona Amagara.  You can book a deluxe (self-contained) Geo dome for just 70,000 UGX ($18.78) per night, and they look absolutely amazing!
---
Day Four | Lake Bunyoni, overnight bus to Fort Portal
There's only one bus per day from Kabale to Fort Portal and it's overnight, which is kind of annoying, but does mean that you'll have a full day to enjoy Lake Bunyoni.  The bus leaves Kabale at 18:00 hours, but I couldn't find out who runs it or how much a ticket costs. My best advice would be to ask at your guesthouse.
Day Five | Fort Portal
Unfortunately you'll have to spend a whole day in Fort Portal unless you manage to organise a chimp tracking experience prior to your arrival here and it departs in good time after your anticipated time of arrival.  Seeing as though we couldn't find out much information about the overnight bus online, we didn't want to risk not incorporating a day in Fort Portal into the itinerary.
Whilst there's not much to do in Fort Portal itself, it is reportedly one of the most attractive towns in Uganda, situated amid lush rolling hillsides covered with tea plantations.  There's also a good selection of hotels, restaurants and nightlife here.
We bookmarked Koi Koi Guesthouse for our stay.
Day Six | Chimp Tracking in Kibale, overnight in Fort Portal
Kibale National Park is Uganda's premier chimp-tracking destination.  It was granted its National Park status in 1993 and covers an area of 766 square kilometres.
The Kanyanchu Visitor's Centre lies 35 kilometres south of Fort Portal and that's where you'll need to arrange your chimp-tracking experience from.  A full-day chimp habituation experience is $220 (correct at time of writing) and this includes the park entrance fee.
Much better than my own image, snapped in Budongo. Photo courtesy of Margo Tanenbaum via Pixabay
---
Day Seven | Travel to Kampala, overnight in Kampala
There's a Link bus to Kampala that leaves every hour on the hour and takes 4-5 hours.  Kalita Coaches also run five services daily, leaving Fort Portal at 07:00, 09:30, 11:00, 13:00 and 16:00 hours.
Potentially you could be in Kampala for around midday, but you'll need to bear in mind the time it then takes you to reach your accommodation.  Realistically you'll only have 2-3 hours of the afternoon to explore.
I can personally recommend Bushpig Backpackers hostel as a great place to stay.  Considering its location the rooms are fantastic value for money, breakfast is included and there's a bar and restaurant on-site.  However, Fat Cat Backpackers also gets great reviews. 
Day Eight | Explore Kampala, travel to Entebbe
As you'll have all of the following day in Entebbe, I'd recommend staying in Kampala for as long as you can.  I've since discovered that there are free guided walking tours available in Kampala, so – unless you fancy braving the boda bodas – that's how I'd recommend you explore the city.  
The tour that I've linked to with Guru Walk is split into two parts: the first part includes attractions that do not have an entrance free and takes four hours.  The second part incorporates attractions with an entrance fee (namely the Gaddafi Mosque, Kasubi Tombs and the King's Palace Mengo) and takes three hours.  You won't have time for both so I'd recommend doing just the first part, and heading over to one or two of the others on your first afternoon in the city.
Travel to Entebbe on the 16:15 Pineapple Express and stay at the wonderful Blue Monkey Guesthouse.
Day Nine | Explore Entebbe
Seeing as though I've already talked a lot about this lovely laid back (not so) little town (you can read my full post on Entebbe here), here are some more photos to help you get a feel for the place.
Day 10 | Fly Home
If, like we were, you're flying with Turkish Airlines (who I can thoroughly recommend), you'll be leaving in the early hours of the morning on your tenth day.  We paid for a night's accommodation at Blue Monkey though, so we still had our comfortable room to relax in, we were able to get a couple of hours' kip before leaving, and could pack at our own pace.
---
And, 4000 words later, those are my two suggested itineraries for Uganda.  I'm kind of gutted we didn't get to climb Mount Sabinyo, and Lake Bunyoni does look spectacular (I really fancied staying in one of those Geo domes too!), but on the other hand I'm thrilled we got to do the Big Six Safari and I loved the Nile Cruise and Murchison Falls hike.
Hmmm, I wonder if it's possible to write a third itinerary and fit all of them in….
But that's a post for another time.
---
Have you visited Uganda? Did your itinerary look anything like either of mine? Or if Uganda is on your list, which of the places on these two itineraries are you most excited about visiting? Tell me in the comments below!
If you like this article, please share it on social media using the share buttons at the top of the post.  And if you'd like to save it for reading later, why not pin to one of your Pinterest boards? Alternatively you can follow along on Facebook, Twitter, or Google+ or you can look me up on Instagram or Pinterest too!
**Some of the links in this post are affiliate links.  All this means is that if you make a purchase through one of the links I have provided, I will earn a small commission as a result but the cost to you will remain exactly the same**