It may sound like a bit of an odd thing to say, but sometimes I hate writing about extraordinary places I've visited and experiences that have completely blown me away.  And I put off doing so for weeks.  Sometimes months.  Occasionally years.
Simply because I never know how my words can do them justice.
Like my incredible 4-day adventure through Bolivia's Salt Flats, my unforgettable trek along the Inca Trail to Machu Picchu, and my independently organised hike through Peru's spectacular Colca Canyon, the three days I spent exploring Bagan's temples in Myanmar was one of those experiences that I struggle to find the words to describe.
690 kilometres north of Yangon, and occupying a massive 67 square kilometre area in Myanmar's fertile central plains region, the Bagan Archeological Zone is one of the main reasons – if not THE main reason – that tourists choose to visit the country.
Between the 11th and 13th centuries over 10,000 Buddhist structures (temples, pagodas and monasteries) were constructed in Bagan (ပုဂံ), of which over 2000 survive today.  Despite centuries of neglect, looting, erosion, and regular earthquakes (the region suffered a major earthquake and significant damage to several of its structures just months before we visited), Bagan continues to delight and amaze  thousands of tourists.  Every. Single. Day.
The pages of travel magazines (and more recently Pinterest and Instagram feeds) are decorated with picture-perfect views of hot air balloons rising above a horizon studded with intricately detailed temples, their pointed stupas beautifully silhouetted in the foreground.
Photo by Nhi Dang via Flickr
Although I'd waited years for the opportunity to visit Bagan, I never honestly believed that it would be as beautiful and breathtaking (and dare I say it, magical) as it looks in all the photos.  But take my word for it – it actually is.
There are no hard and fast rules for getting the most out of your visit to Bagan.  Sure there are a select few temples you shouldn't miss, but the best, and most fun way of exploring the area is to ride around aimlessly on your electric scooter and discover your own.
I couldn't tell you the names of most of the temples we stumbled upon.  Or how to get to them.  A lot of the smaller ones didn't even have names (at least not in the form of a sign outside on which its name is written).  But this is what makes the adventure all the more appealing: you really feel like you're exploring an area that's largely unchartered, save for the villagers who farm the land through which you ride.
Especially if you ride out into the lesser-visited southern plains.
We booked three nights in Bagan at the beautiful Royal Bagan Hotel (the longest amount of time we'd allowed in a single destination during our two-week stay in Myanmar), and had (almost) three full days in which to see as many of the area's temples as possible.
That's a pretty overwhelming prospect.  And to be honest, even if we'd had three weeks we'd still be leaving a huge number of Bagan's temples unexplored.
But we managed to find most of the larger temples we'd wanted to (even in spite of the absence of a remotely useful map) and – with the exception of Shwesandaw at sunrise (although there is a reason it's so popular; the views from here are out of this world) – we also managed to avoid the majority of tourists, too.
Here are a few of my favourite temples in Bagan.  Some you'll find in the Lonely Planet guidebook, but most will be entirely serendipitous discoveries.  And the best thing about that? You'll probably be the only person there.
The Temples of Bagan
Ananda Pahto
Just south of Tharabar Gate in Old Bagan, Ananda Temple was built at the end of the 11th century.  Although it's one of the most popular, it's also one of the finest, largest, and best preserved of all Bagan temples.
Unfortunately its gilded stupa had been badly damaged in the recent earthquake and was covered in bamboo scaffolding when we visited, but I still couldn't stop snapping photograph after photograph of this beautiful structure.
Pyathadar Hpaya
Like many of our temple discoveries in the area, we decided to leave our choice of sunset watching spots to a certain degree up to chance, and Pyathadar Hpaya was where we found ourselves on our first afternoon in Bagan.
Located west of Minnanthu Village and not far from Sulamani temple, Pyathadar Hpaya (Pyathetgyi Pagoda) dates from the 13th century and boasts one of Bagan's largest open terraces.  It's surround by miles of lush farmland scattered with trees where local women work in the fields and herds of cows and goats meander down dusty paths.
Although you won't find Pyathadar in the Lonely Planet guidebook, it hasn't quite managed to escape the attention of passing tour buses, so you definitely won't be alone up here.  But there's enough space on the terraces to comfortably accommodate everyone without the crowds feeling overwhelming.
If you're lucky enough you'll even spot a saffron-robed monk perched on the edge of the terrace, enjoying a moment of quiet contemplation as he admires the view.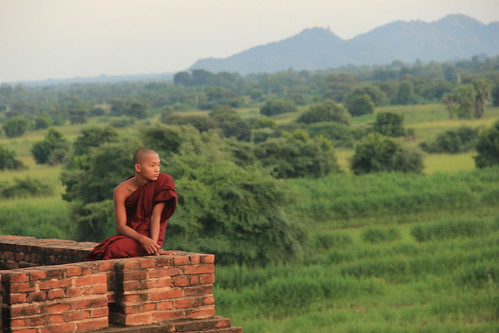 Sunset from Pyathadar Hpaya is nothing short of spectacular.
Iza Awna
One of Bagan's smaller temples, located in the area's southern plains, Iza Awna is intricately detailed and beautifully preserved.  And almost completely devoid of other tourists (although it is right next to a 'main road', so maybe it was by more luck than judgement that we managed to avoid almost everyone else here).
In spite of how quiet we found Iza Awna, its grounds were still occupied by the token hawker selling sand paintings close to the entrance.
Some of these hawkers can be quite pushy – and therefore rather irritating – at the larger temples, so it was nice to come to somewhere where we could admire the art work without feeling pressured to buy (if I'd bought a sand painting at every temple where I was asked to, I'd be broke and there would be no room for my clothes in my backpack).
The Bat Temple (no official name that I could see)
Just off the main road as you leave New Bagan headed for Old Bagan, this small temple is not particularly outstanding in itself; the appeal for us was what we found inside.  My David Attenborough wannabe boyfriend identified the smell when he walked inside, which then urged him to eagerly fetch his torch.
As he shone it up towards the ceiling inside the temple, we could see hundreds of bats hanging above us.  A few flew around the temple to avoid our blinding torch beam, their squeaks echoing around our heads.
Unfortunately the lighting was too poor to get a decent shot of the bats, so here is a photo of me doing my bat impression outside the temple.
We also found some cool cacti and weird spider webs.
Windo
Close to Iza Awna temple on the southern plains, Windo was one of our favourites as much for the lovely gentleman who showed as around as for the temple itself.  Windo is only just off the 'main road' from Old Bagan yet it sees relatively few visitors.
The gentleman who welcomed us lived with his family in a small dwelling adjacent to the temple complex.  He talked to us (in almost perfect English) about our travels and about the trek he was planning to do in the Shan state.
Many of the entrances to the smaller temples you'll visit are gated and locked to protect the temple against unwanted vandalism.  Local families hold the keys and will let you inside for a small 'donation'.  But this gentleman neither asked for any money nor accepted any when we offered some.
The quiet temple with amazing views
It didn't appear to have a name and I couldn't tell you whereabouts on the southern plains it is, but if you find it you'll be treated to some incredible views of Bagan's temple-dotted landscapes.
The only other tourists we saw here were a young couple who sat on the steps up on the terrace with their arms draped around each other.  Instead of spoiling our peaceful experience it kind of added to the romanticism of the beautiful, magical 360 degree views that surrounded us in every direction.
Shwesendaw
Although you'll be fighting for a space on Shwesendaw's narrow terraces at sunrise or sunset, there is a reason why every other tourist flocks here: it offers some of the best views of the surrounding landscapes.
And if you visit about an hour and a half before sunset, you'll have the benefit of far fewer people and better lighting for capturing the outlines of Bagan's intricately detailed temples.
Our lucky sunset find
Not wanting to stick around for a ridiculously crowded sunset at Shwesendaw, we hopped on the bike and began riding out into the depths of Bagan's southern plains and stumbled across this wonderful find.
We could look back at Shwesendaw and spot the crowds of tourists gathering on its terraces.
Like Pyathadar Hpaya this temple was surrounded by fields occupied by locals taking advantage of the last bit of available light with which to work on the land.
Although it doesn't look incredibly dark in the photo below, it's amazing how quickly darkness falls once the sun has set.  So there's always a bit of a mass exodus at the bigger temples to get down from the terraces before everyone else does.
But here there was just one local guy on foot and a couple of other tourists who hopped on their scooter just before we made it down to ours.
We still didn't leave ourselves enough time though.  Less than 10 minutes after leaving the temple the landscape looked like this:
We struggled to find our way through the maze of narrow pathways and dirt tracks with just one torch between us.  We didn't want to use the lights on our scooter (unless we absolutely had to) because once the battery ran out, we would actually be stranded.  Even with Google Maps on our phones, it was a bloody long walk back to Nyaung-U.
South Guni 
We were actually heading to North Guni Temple in order to watch the sunset on our final day in Bagan, because it had been recommended to us as one of the area's quieter sunset viewing spots.
However when we arrived we found the temple cordoned off to tourists due to it being in danger of collapse.  The entire right side of the structure was propped up by bamboo scaffolding, and part of one of its stupas lay buried in the soil outside.  All the result of the August 2016 earthquake, one that measured a whopping 6.8 on the Richter scale.
So instead we continued on to South Guni temple, and found it every bit as delightful as we'd envisaged North Guni to be.  There were still parts of the temple that were damaged (but nowhere near the extent of the damage that North Guni had suffered), but the views were certainly no less incredible.
What I loved most about exploring the temples of Bagan was that, in spite of it becoming an increasingly popular tourist destination (and one that's more accessible now than it's ever been), the sheer size of the area and number of temples contained within it mean that it's entirely possible to feel like you're discovering unchartered territory.
And if I were to describe my experience in only one sentence, this is what I would say:
"An intrepid adventure filled with serendipitous discoveries and some of the most magical sunrises and sunsets I've ever been fortunate enough to lay eyes upon."
Practical Info
Electric scooters are available for rent from the majority of hotels in Nyaung-U, as well as from a few scooter rental outfits in town.  Ours cost 6500 KYAT (£3.75) for half a day or 9000 KYAT (£5.19) for a full day.  Although paying for a full day's rental entitles you to keep the bike from 5am (for sunrise) until 7pm, bear in mind that the batteries only last a maximum of 8 hours.  So, unless you return to the hotel to recharge it part the way through the day, if you take it at 5am it won't see you past lunchtime.
Much of the terrain over which you'll ride is loose sand, so don't hire a scooter unless you're a competent rider.  That's why I didn't.  I was quite happy playing pillion and keeping a look out for good photo spots.
From Yangon you can catch a bus to Nyaung-U.  We took the overnight bus for 20,000 KYAT (£11.55), which got us into Nyaung-U at around 6:30am.
---
Have you visited Bagan before?  If so, which was your favourite temple or experience there? If not, is it on your bucket list?  Let me know in the comments below!
If you like this article, please share it on social media using the share buttons at the top of the post.  Alternatively you can follow along on Facebook, Twitter, or Google+ or you can look me up on Instagram or Pinterest too!
**Some of the links in this post are affiliate links.  All this means is that if you make a purchase through one of the links I have provided, I will earn a small commission as a result but the cost to you will remain exactly the same**
PIN ME!!